Personal Growth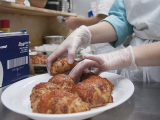 Registration Unavailable
Baking & Pastry Fundamentals
with William Pebler

Feb 6, 2017 at 6 pm
, runs for 10 weeks
Do you enjoy baking? I am sure we can all imagine the robust smell of cookies in a hot oven, the sugar and butter browning, the sweet smell of spices and vanilla warming the air.This course is focused on helping individuals understand the fundamentals of baking and pastry. We'll take an in depth look at methods, ingredients, and of course taste every creation along the way. Learn how to craft flakey biscuits, decadent wedding cakes,exciting party treats, hearty breads and beautiful desserts. Supplies fee included in the tuition. No class Feb 27.
Full Course
Multicultural Cooking
with Robin Cruz

Feb 8, 2017 at 6 pm
, runs for 10 weeks
Come and join me for a great time learning to create various ethnic dishes from countries such as Cuba, Hungary, Italy, Israel, Thailand and more. You will learn how to prepare the dishes and impress your family and guests. You will also learn knife techniques and of course eat the delicious food we make while listening to music from the country whose dish we experience.
The following dishes will be prepared:
Class 1: Cuban Chicken Stew / Class 2:Israeli Falafals
Class 3:Hungarian Stuffed Cabbage / Class 4: Thai Massaman Pork
Curry
Class 5:Homemade Cheese and Spinach Ravioli / Class 6: Indian Style Curried Chicken
Class 7: Potato latkes with applesauce / Class 8:Moroccan Apricot and Almond Tangine Class
Class 9:Puerto Rican Crispy thin Pork Chops
Class 10:Italian and rosemary garlic chicken.
Registration Unavailable
Preparing to Buy a Home
with Kelly Deforge

Feb 7, 2017 at 6 pm
Pre-approval. What does it mean? Can I get a mortgage? Can I buy a house? What is the function of the lender, appraiser, inspector, realtor and attorney? Learn from a professional to determine if you are ready to buy. Someone who can show you how to sort out housing options, show you how to shop for and apply for mortgage loan products and answer your home buying questions. This is a one night, 3 hour class.